Email Marketing Services
Promote your brand, events, products and content leveraging the most effective marketing channel and our 9.5 million prospect database.
"One of the top 3 performers of our ten third party providers."
"We chose to work with HRMorning, a brand under the SuccessFuel umbrella, for lead acquisition in the HR space beginning in February 2016.  We felt SuccessFuel had a really great contact base for us that matched our ideal customer profile. Since then, SuccessFuel and HRMorning has proven to be one of the top 3 performers of our ten third party providers and are continuously successful for us. We enjoy the flexibility of the SuccessFuel team as well, it's been amazing working together."
Tiffany Ramirez
Marketing Executive
XpertHR
Two Types of
Email Marketing Programs
Custom Email Blasts
Need to amplify the promotion of your upcoming live or virtual event? Want to launch your new product to a wider audience beyond your in-house database?
We can take your existing email creative (or help you create something new) – and deploy high impact email marketing campaigns that drive traffic to your offers.
Pinpoint targeting – We build a custom, segmented email audience based on your target profile. You can tap into our 9.5 million prospect database and filter based on 55 audience segments, specific job titles, any company size, geo-targeting, and 45 industries.
Creative flexibility – Use your existing email templates or partner with our marketing and creative team to craft something new.
Measurable results – Get post-campaign reporting on sends, opens, clicks. And, our client success and marketing team will provide feedback on how we can make subsequent deployments even more effective.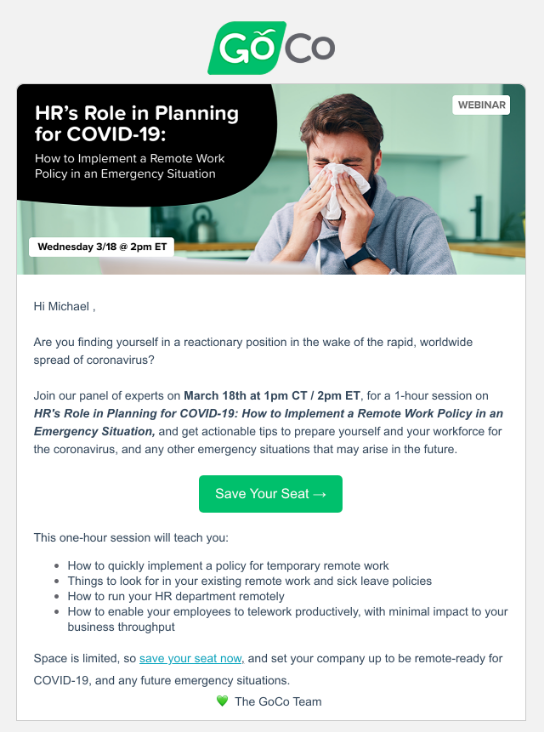 Special Edition Enewsletters
These ready-made email campaigns generate quality traffic to your website by combining the trust and engagement of our editorial email newsletter template with your natively integrated content, lead magnets, and attention-grabbing banner ads.
Aligning with our editorial expertise will position your brand as a thought leader on a specific topic in your market.
Includes:
Promotion to our entire enewsletter audience
Featured editorial article on a topic based on our editorial calendar (we can accommodate client topic suggestions given enough lead time)
Two Display Ads (728×90, 300×250)
Three Lead Magnets (ebooks, whitepapers, case studies, text ad)
Exclusive placements available every week